VOLVO V90 A.W.D D5 POWERPULSE CROSS COUNTRY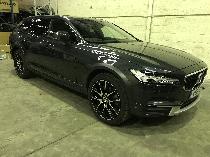 VOLVO V90 A.W.D D5 POWERPULLSE CROSS COUNTRY 2017 20K MILES WITH FULL VOLVO SERVICE HISTORY SAVILLE GREY FULL BLACK LEATHER,HEATED AND ELECTRIC SEATS,ELECTRIC SEAT EXTENSIONS AND SIDE BOLSTER,HEATED STEERING WHEEL,HEATED FRONT SCREEN, FULL PANORAMIC GLASS SUNROOF WITH ELECTRIC SUN BLIND,L.E.D HEAD LIGHTS,20 INCH ALLOY WHEELS,ELECTRIC AND AIR SUSPENSION,BLIND SPOT ILLUMINATION,360 DEGREE CAMERAS,AUTO DIMMING MIRRORS,HIGH LEVEL NAVIGATION WITH FULL INTERNET CONNECTIVITY IPOD BLUETOOTH DAB CD PLAYER OPTIONED,INTELLISAFE WITH SIDE OBJECT DETECTION LANE KEEPING AID, WITH AUTO PARKING PILOT,DISTANCE KEEPING CRUISE CONTROL WITH AUTO STEERING UPTO 80 MPH,KEYLESS ENTRY AND DRIVE,VOLVO ON CALL WITH APP WITH REMOTE STARTING ETC ETC A VERY HIGHLY OPTIONED 4WD,COMFORTABLE WITH ELECTRONIC 4 CORNER SUSPENSION AND ADJUSTABLE REAR AIR SUSPENSION A HUGE LOAD CARRIER COMES WITH ALL HAND BOOKS,SERVICE HISTORY AND SPARE KEY WAS LIGHTLY PANEL DAMAGED AND REPAIRED USING BRAND NEW GENUINE PARTS WITH RECEIPTS AND PHOTOS STUNNING V90 AWD CROSS COUNTRY AND RARE D5 ENGINE.NO VAT ON THIS ITEM.
Available for models:
Availability: In stock
£24,495.00 (Ex VAT)
€28,155.17 (Euro)
Shipping (UK Mainland) From: £ (Ex VAT)
Image used is generic of the part listed and might not be the actual part sold. Colours may vary. Please call 01772 709221 if more detail is required.